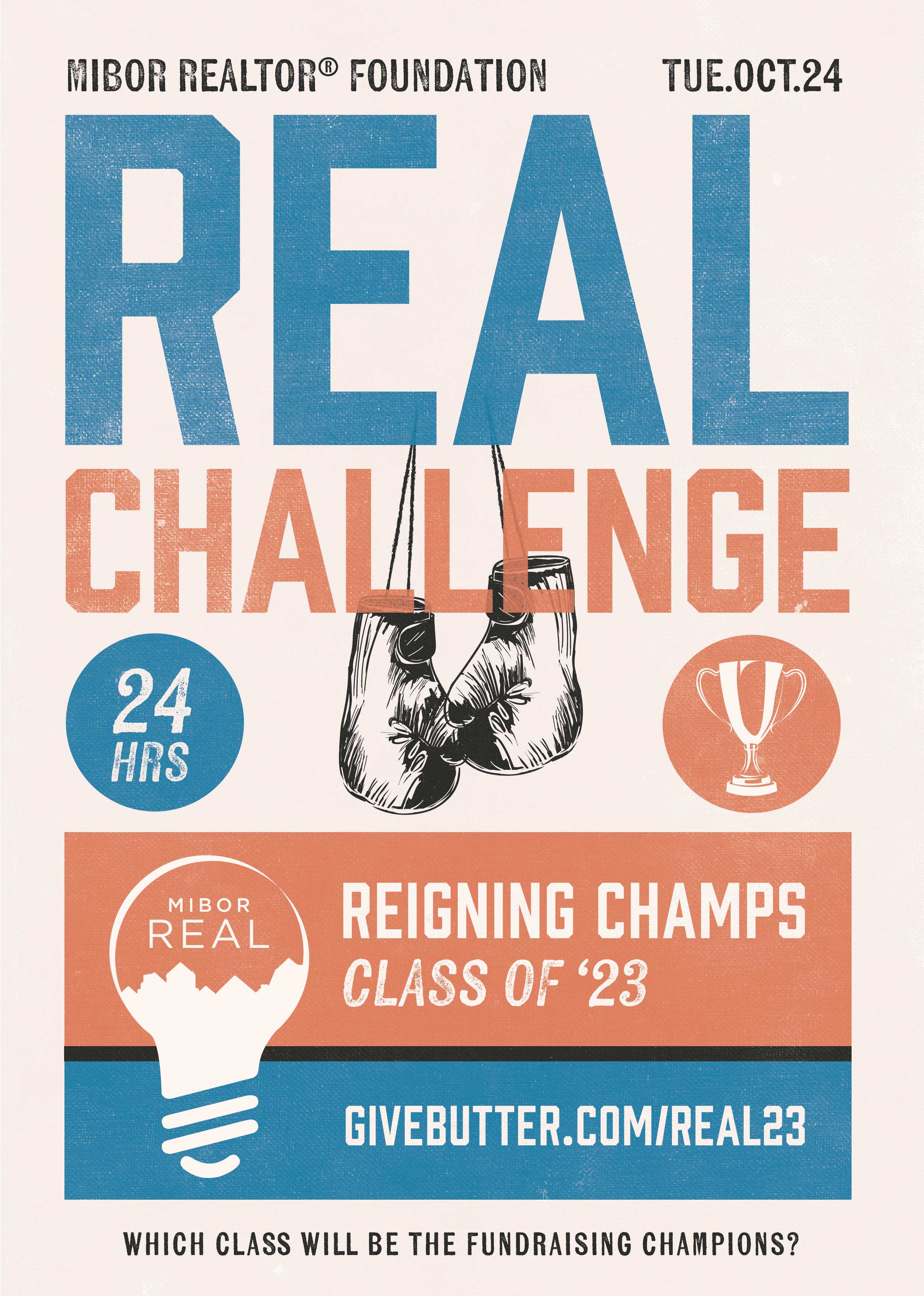 Event Overview:  
WHAT is the REAL Challenge? A one-day, 24-hour fundraising battle royale to see which REAL (Real Estate Academy of Leadership) class of alumni can raise the MOST amount of money for the REALTOR® Foundation.   
WHEN is the Challenge? Tuesday, October 24th is the big day! Put it on your calendar, circle it, add a gold star! You will have from midnight to midnight to collect donations online for your REAL Class.  
HOW do we raise money? Each class will have its own unique web page for collecting donations and the Challenge main web page will have a live thermometer tracking each class's contributions.  All donations must be made online and on October 24th to count for the challenge.  Anyone can give to your class!  Solicit donations from our office, company, friends and family, and other class members. You are only limited by your own creativity! Plan a social event, visit offices, and post a plea on social media.  You will want to coordinate efforts as a group in advance! Your role as captain is to get the word out to your class and make sure everyone is prepared to support your efforts.  We will also send messages out to all REAL alums and share on social media (Follow us! @realtorfnd).  
WHAT DO WE WIN? Bragging rights are up for grabs, plus there is now a huge shiny trophy in play! The real winner is the REALTOR® Foundation and our most vulnerable neighbors who will benefit from our mission. 
⁕Donations will be collected 12:01 AM-11:59 PM on Tuesday, October 24th⁕

Our Mission
The REALTOR® Foundation supports local nonprofit organizations solving homelessness in central Indiana because we all need a safe place to call home.  
Since its founding, the REALTOR® Foundation has awarded $3 Million to local nonprofits through grants that provide housing and assistance. for Hoosiers experiencing homelessness.  
Learn About the REALTOR® Foundation: realtorfoundation.org.  
Donations will be collected 12:01 AM-11:59 PM on Tuesday, October 24th.
REAL CLASS FUNDRAISING RESOURCES